Historic Restoration with Modern Methods
Peter Cox has been contracted to treat woodworm and fungal decay on a major refurbishment project in Huddersfield. Acre Mill is a listed wiremill which adjoins Huddersfield Royal Infirmary, and will eventually become a new outpatient centre. Peter Cox Yorkshire office is responsible for the project. Branch Manager Gary Laird said: "Acre Mill was once regarded by locals as the biggest mill in the world as it went three-quarters of the way around the "Globe" – the name of the local pub, now known as The Nightingale. The contractors are keen to preserve as much of what is left of the original structure as possible and with our considerable experience working with historical buildings, Peter Cox was the obvious choice.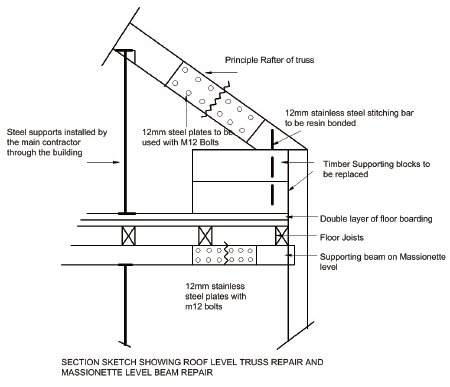 Upon investigation of the rafters, the Peter Cox team found woodworm infestation and fungal decay.

Some of the rafters were also damaged and split and the ridge was completely missing in places and provided no structural support. There was also further decay by Wet Rot to some of the rafter feet, wall plates to the front elevation and to several trusses. Wet Rot is caused by a number of Basidiomycetes fungi and attacks both softwood and hardwood. It usually occurs in persistently damp conditions and has been known to hollow out giant beams and is responsible for much of the wood decay within buildings.
In addition, the Peter Cox team also found evidence of infestation by the Common Furniture Beetle (Anobium punctatum) to all trusses. This wood-boring insect is responsible for about 75% of all woodworm damage in this country and will attack softwood and hardwood.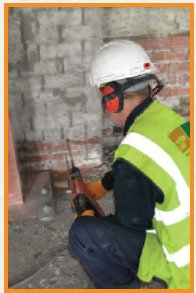 In order to repair the problems, Peter Cox removed and replaced the timbers and all surfaces and then contact masonry was capped in a damp proof membrane. A stainless steel threaded bar was inserted from the top of the principle rafter into the two supporting blocks underneath and resin bonded to the timbers. A new wall plate was machined and fitted and all surfaces that contact masonry were capped in an appropriate damp proof membrane.
New rafters were fitted from the first purlin to bear onto the new wall plate and new purlin were formed from specialist timbers. The purlin was installed and the splice section of truss resin bonded back into place. All other timbers had high moisture content and also showed evidence of the common furniture beetle and so the team treated the bearing ends with a Deep Kill Timber Gel to prolong their life. We also injected Deep Kill Timber Gel into the bearing ends and fitted a plastic cap to prevent leakage. On the maisonette level, the team treated decay from Wet Rot by removing floor boarding, tongue and groove boarding and decayed stonework. A new beam end was formed from structural grade Douglas Fir and all surfaces came into contact with masonry were capped in a damp proof membrane.
Perfect for Heritage Buildings
Gary Laird said: "When dealing with rising damp in thick stone and brick masonry, and especially rubble-filled walls, Peter Cox advise using a remedial damp proof course using our Elektro+ Osmotic System, which is particulary ideal for historical buildings." In the 18th century, a physicist named Reuss found that water moved from a positive to a negative cathode when an electrical current was applied.
Today the science has moved on considerably and by introducing a very small positive electrical charge on the wall it repels the rising damp moisture molecules down the walls and back into the ground. It is perfect for heritage buildings as it causes minimum disturbance and is 'reversible', making it acceptable to leading conservation and heritage organisations. No liquid chemicals are used so the wall is quicker to dry out and it does not cause problems on party walls. It is chemical free and immediately effective and can even be fitted with a monitoring system for additional reassurance.
Gary adds: "This completed development will provide a new 56,000 sq. ft. centralised outpatient centre, expected to serve over 200,000 outpatient appointments every year. It is due to be operational by mid-2014 and Peter Cox isdelighted to have played a part in securing the future of this old building for future generations."